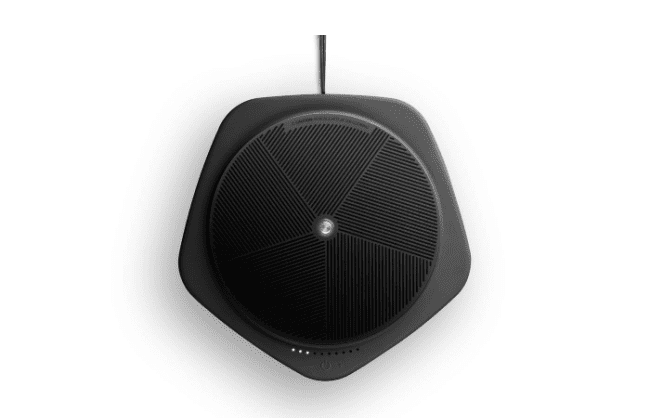 3
Buzzfeed wants to support your journey in becoming an incredible chef. The Tasty One Top is part of a growing line of smart kitchen gadgets (Proper Tasty, Bien Tasty, and Tasty Jr.) that have revolutionized kitchens across America. Equipped with Bluetooth technology, the Tasty One countertop burner is perfect for anyone seeking an easy-to-follow time-saving solution for dinner.
Intelligent Design Features
The real magic behind Buzzfeed's Tasty One cooktop lies in the iOS compatible Tasty App (Android version en route). With access to over 1,700 recipes and videos, you can learn to boil, sear, and sous vide creative dishes from the comfort of your home. Buzzfeed's powerful induction cooktop can create signature dishes ranging from honey garlic chicken to pineapple grilled skewers to churro ice cream. Users simply pick their desired recipe, allow the app to adjust the settings of their Tasty One Top, and follow the instructions. You'll then know the exact moment to sauté the onions/garlic and sear your filet.
If cooking is your game, Tasty One has the option of operating the induction cooker without settings. You go from paint-by-numbers cooking to the freedom of a seasoned Sous Chef by simply disconnecting from the app's instructions.
Smart Cooking Technology
Armed with a temperature probe – the Tasty One precision cooker takes the guesswork out of internal temperature. Whether it's cooking the perfect medium rare filet or making sure burgers are well done, the Tasty One gives insight in every step of the preparation process. This is especially important if you decide to take the sous vide cooking challenge – a method that requires cooking vacuum-sealed food in a temperature-controlled water bath.
The Tasty One cooker has an incredibly friendly price tag ($149) compared to competitors like the Paragon Induction Cooktop ($300) and the Hestan Cue ($650). With millions of followers on Facebook and millions more downloading Tasty videos, this product has an element of brand recognition that other cooktops do not have.
Buzzfeed created Tasty two years ago and it quickly became one of the leading influencers in easy-to-cook recipes. With this cooker, consumers are granted the reassurance of a kitchen gadget built from GE Appliances' FirstBuild microfactory.
"What we were really struggling with or thinking about is, how we can make cooking more reliable, take the guesswork out," Ben Kaufmann, head of Buzzfeed's Product Lab, told Wired. "How do we make it more comfortable… for people to express themselves and be them."
Our Review
Upon receiving the Tasty smart cooktop in the mail, I was shocked by how large the shipping container was. After opening several boxes, I finally reached the Tasty cooktop and was nervous that it would be difficult to set up. The side of the box mentioned an app, there were two different chords, and a couple of different cooktop parts.
Tasty Unboxing
Before ordering, I was excited to try the cooktop because I am not a great cook. I often struggle to know when meat is done or how long/what temperature to cook food. Yet, after seeing several parts I regretted my decision.
After downloading the Tasty app as instructed, I found that this is no longer the app paired with the cooktop and had to find the app specifically for the smart cooktop. This seemed a little misleading, like an effort to gain downloads.
After downloading the app, I was instructed step by step, with lots of photos- how to set up my smart cook top. This process was fairly simple, yet I struggled to find any pans that would be compatible with the cooktop.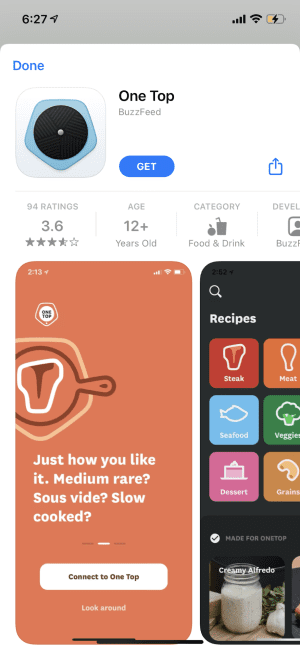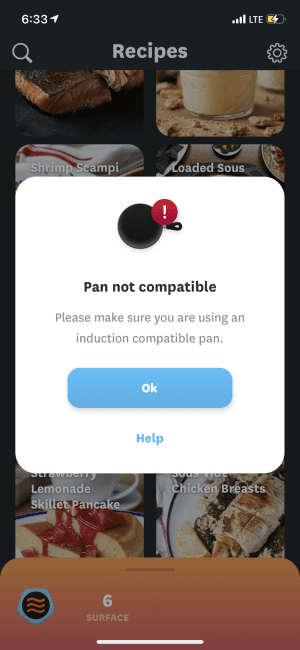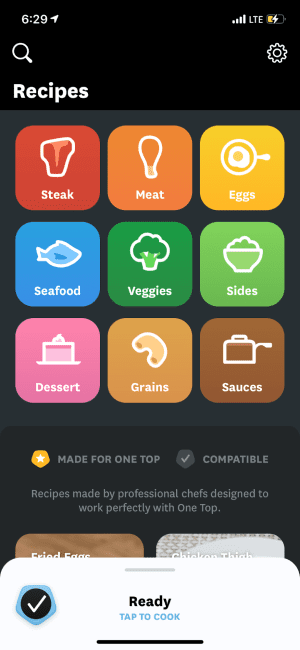 After finding a pot that would induce heat with the smart cooktop, I chose a super simply, easy meal to practice using the cooktop with. I simply typed in "grilled chicken" and followed Tasty's instructions. The app connected via Bluetooth with my cooktop and automatically preheated in about one minute.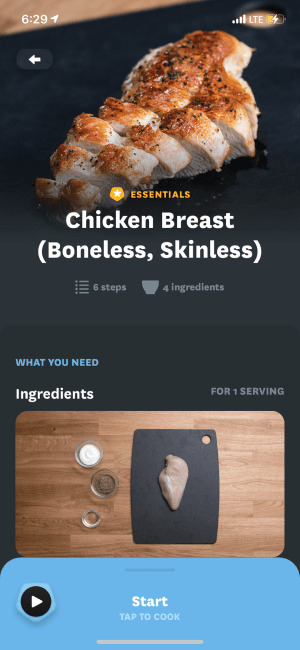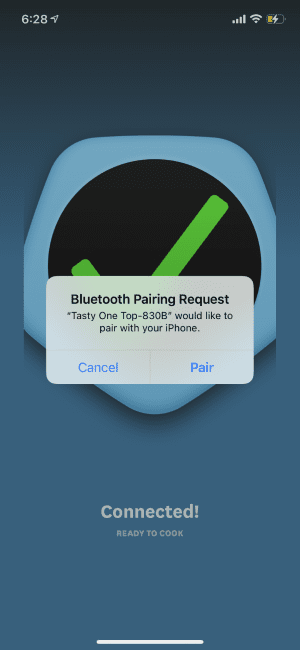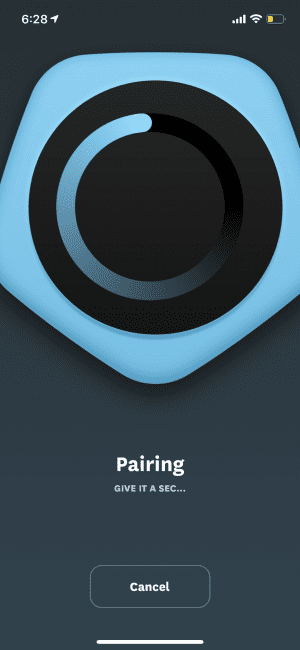 After this, I was a little annoyed to be forced to complete Tasty's steps and not be able to skip ahead to the cooking portion of the recipe. In the future, I think it would bother me to have to be instructed to season chicken and put oil in a pan, rather than just skipping to the cooking portion.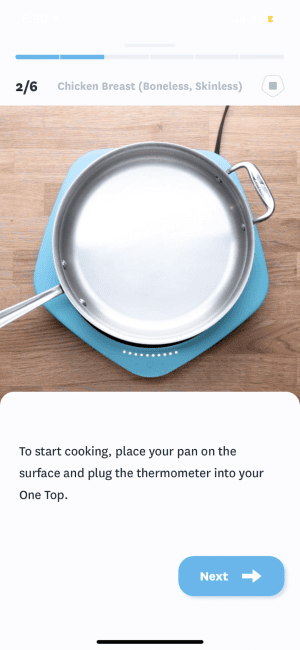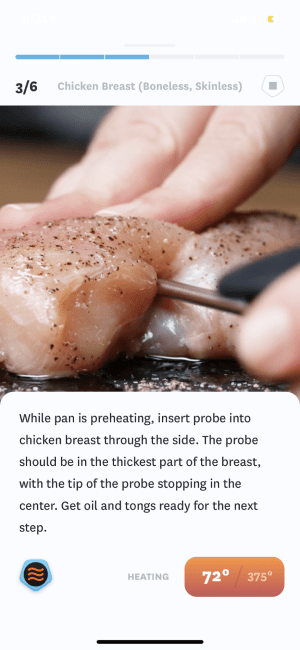 After the smart cooktop was preheated, I placed the chicken in the pan and was astonished to see how fast this process was. The chicken was cooking so quickly that it was starting to burn the bottom of the pan, which had oil in it, almost immediately. I felt rushed to move the chicken around to avoid burning, and ultimately the chicken was cooked in only a few minutes.
After removing the chicken from the cooktop, I cut it into pieces and found that the outside was a darker brown than I would usually use it, but the inside was not cooked all the way through. The smart cook top cooked the food so fast that it did not cook through and was not edible.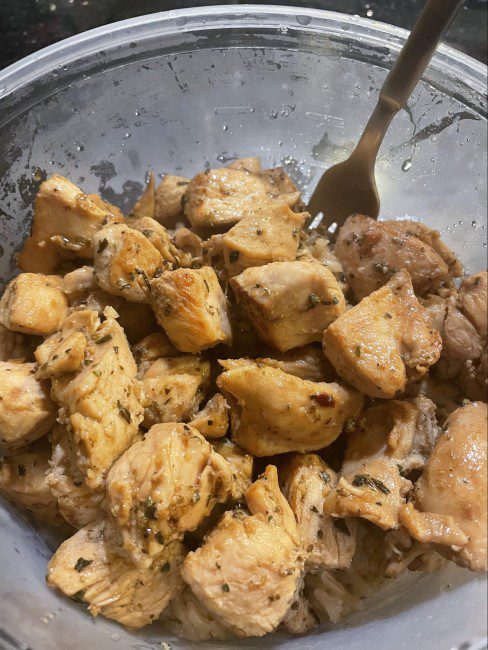 Although I think the meat thermometer is a great feature and this cooktop could be great for those who are not confident in the kitchen, I do not think this cooktop is worth it if you already have a stove. It is quite inconvenient to pair with an app, follow instructions, and not have control over heating. Using a regular stove top is much simpler and more convenient. Nonetheless, if you would like to try the cooktop, it would be ideal for a small studio apartment with no stove, a camping trip, or vacation. It would require a bit of patience and practice, but ultimately could be useful.
The Tasty One Community
Buzzfeed hit the nail on the head when designing its oven under the guidance of an intuitive iOS Tasty app. Users have a library of recipes to choose from whether it's "16 One-Pot Dinners That Are Actually Healthy," "17 Egg-Cooking Hacks That Are Borderline Genius," or "28 Mediterranean Recipes You Should Make ASAP." Equipped with a host of built-in sensors that speak to the app's pre-programmed cooking settings, Tasty One owners can rest assured that their end product will produce consistent chef-like results.
Source: Tasty One Top, Wired
PROS
Engineered Crystal Glass Surface
Integrated Surface Sensor
Capacitive Touch Power Control Buttons
Thermometer Tracks the Temperature of Liquids, Meat and Fish
Energy Efficient Cooking
Pentagon Shape
Affordable Price
iOS Tasty App (17,000 Recipes/Videos)