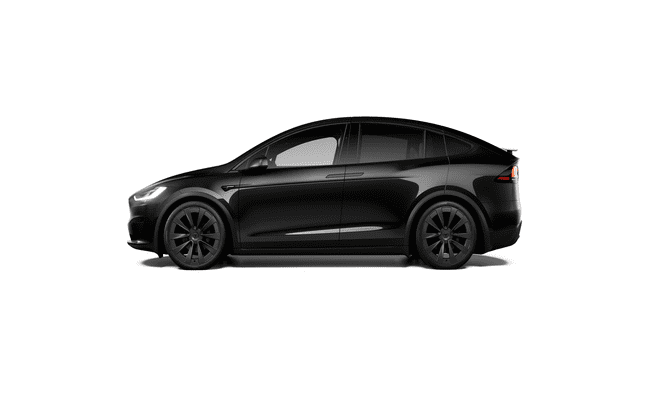 2
Tesla may have produced the most technologically-advanced, aesthetically-pleasing, top-performing electric Sport Utility Vehicle ever to hit the marketplace. It's also equipped with some of the most revolutionary safety features ever built into an electric vehicle.
Introducing Tesla's Model X – the all-wheel drive electric SUV. Capable of 0-60 mph in 2.9 seconds and armed with a 100 kWh battery providing 333 miles of range, this impressive SUV will be turning some heads as it self-drives past all of us on the freeway.
By purchasing the Model X Self-Driving Hardware package, you instantly have one of the most sophisticated SUV's on the road. With eight strategically-placed surround cameras providing "360-degrees of visibility around the car at up to 250 meters of range," Tesla claims that its panoramic vision makes using its Enhanced Autopilot features 2x's safer than a human driver.
The upgraded sensor system covers two times the distance as its predecessor and the 12 ultrasonic sensors can seamlessly detect both soft and hard objects from any angle.
Whether it's the rear view camera (50-meter max distance), ultrasonics (8 m), forward looking side mirrors (80m), or radar (160m), you are fully covered from lane creepers to random objects rolling into the street. With 40 times more powerful onboard sonar/radar processing unit, drivers are able to see through heavy rain, fog, dust, and even the car ahead. The new vision processing tools, according to Tesla, lets you see in every direction simultaneously.
Here are some of the features that come with the Tesla Model X Enhanced Autopilot package:
Your Tesla will match speed to traffic conditions
Keep within one lane
Automatically change lanes without requiring driver input
Transition from one freeway to another
Exit the freeway when your destination is near
Self-park
Summon to and from your garage
Tesla's super sophisticated self-driving software knows when to pass slower cars on the freeway and at the same time, gives back full driving control once you take your exit – allowing you to navigate more complicated streets en route to your final destination.
The Smart Summon feature alerts your Model X to come find you, pick you up, and drive you to a point of interest. If you simply jump in your car and say nothing, the Model X will sync to your digital calendar and drive you to your appointment. If nothing is saved to your calendar, then your Tesla knows to drive you home. How convenient!
From choosing the best possible route to managing highly complex intersections, Tesla's intuitive Autopilot hardware is backed by some of the most sophisticated advanced safety features, including collision avoidance, automatic emergency braking, side and front collision warnings, and auto high beams.
If you have the Supercharger feature, you don't even have to worry about charging your SUV's battery – it does so automatically.
The safety features are not just isolated to Tesla's new vision onboard computer systems. Tesla, after countless safety tests, is predicting their Model X SUV "will receive the highest safety rating in every category."
Whether it's the floor-mounted battery that strategically lowers the center of gravity (reducing the rollover risk) or the front trunk designed as a giant impact-absorbing zone, the Model X is designed to keep all six of its passengers safe in case of an accident.
In true Tesla fashion, the design of its Model X SUV is both innovative yet ergonomically-sound. With seven people seated in three rows of independently reclining chairs, Tesla decided to use articulating Falcon Wings to allow for easy access to both the second and third rows.
Since the Falcon Wings take up only a foot of clearance on each side, passengers can access the SUV from both the front and rear of the vehicle without ducking or straining. They also look like the doors on a Delorean, which is really cool.
If the Falcon Wings don't have you impressed, the Big Sky panoramic glass windshield inside the SUV will. Consider the "largest all-glass panoramic windshield in production," Tesla wants drivers and passengers to experience the outside world during road trips. Tesla made sure that "every seat is the best seat in the house," with obstruction-free views of the road ahead and the sky above.
Finally, and arguably one of the most important design features is Model X's aerodynamic engineering. As much as Tesla designed the Model X for acceleration and maneuverability, it also wanted to maximize the SUV's range. With a 20% lower drag coefficient (0.24) than the next best SUV and an active spoiler that optimizes highway efficiency, Model X can get 289 miles of range on one charge.
Overall, the Tesla Model X is one of the best electric cars you can buy. Even without all the premium features, this car is sure to impress anyone on the road.
PROS
Access to Tesla's expanding Supercharger network
Maps and navigation with real time traffic information
Collision Avoidance
Electric All-Wheel Drive
Automatic Emergency Braking
Side & Front Collision Warning
Smart Summon Autopilot Feature
Enhanced Autopilot Software
Tesla Vision