Equipped with proprietary Flash Knit technology, the all-new waterproof shoes by Vessi Footwear provide the highest level of protection against water. By blending polyester and nylon materials, the Vessi shoe is form-fitting, flexible, and capable of stretching in four different directions. Vessi Footwear has developed the first 100% waterproof shoes that are fully submersible and leave your shoes completely odorless, ventilated, and fresh.
Innovative Design Features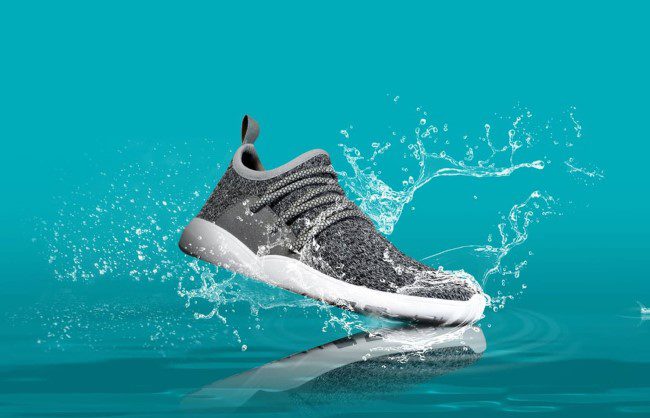 Backed by $300,000 in funding through the company's Kickstarter campaign, Vessi Footwear has one mission in mind: to create the next innovation in footwear. Designed to mimic the feeling of wearing socks, Vessi shoes are puddle-proof and capable of seamlessly protecting wearers against all wet conditions. Vessi makes the promise that these shoes are not water-repellant or water-resistant, they are 100% waterproof.
Cutting-Edge Waterproof Shoe Technology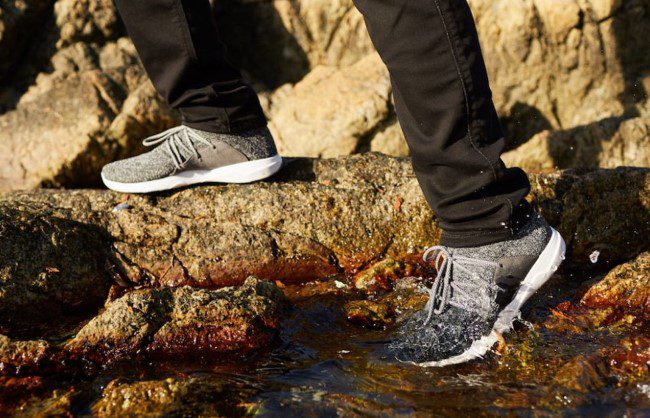 Vessi's patented Flash Knit technology is an industry first. After two years of development and extensive testing, Vessi Footwear designed a three-layer system consisting of waterproof, water-repellant, windproof, moisture-wicking technology. Simply stated, Vessi spared no expense in creating its three-layer technology that includes its nano-filtering membrane, a stretch kit layer, and comfort lining. Below is the breakdown of the three functional layers:
The Nano-Filtering Membrane is a waterproof and moisture-wicking layer that keeps your feet dry while allowing moisture from your sweat and body heat to escape the shoe. This is not a coating; therefore, the waterproofing function will last the lifespan of the shoe.
The Stretch Knit Layer of Vessi is a knitted layer, composed of polyester and nylon. This specific blend was chosen to create an elastic, yet durable knit that stretches to the shape of your feet.
Our Experience
As a New York girl living in California, I have not needed to own waterproof shoes since I was a child at a waterpark. Nonetheless, my boyfriend loves camping, hiking, and the outdoors. I love going with him, but am more of a nice stroll or lay by the lake kind of girl.
With this being said, I have been on the market for a more stylish option for water shoes. I was excited to try the Vessi Waterproof Shoes due to their 100% waterproof claim. The shoes look more like sneakers than any water shoes I have seen, and they ideally will not leave my feet damp and gross.
When the shoes arrived, they were in a cute shipping box complete with cardboard cutouts of rain drops, and rain themed tissue paper. At first glance, I was excited to see that the waterproof shoes looked like a pair of regular slip-on sneakers I already own. They were much cuter than waterproof shoes I have seen on Amazon and ultimately could be worn on a regular day, and no one would know.
When picking up the shoes, my doubts began. The shoes feel almost like a wool material that seems like it would be disgusting if wet. The shoes also featured several little tabs to help consumers get them on, which confused me at first.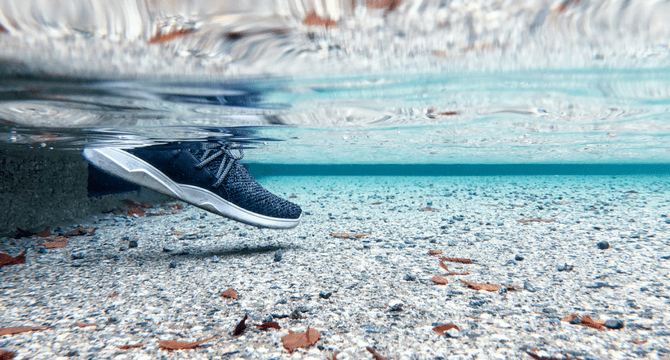 After contemplating for a few days, I finally tried on the shoes. As expected, the shoes were rather difficult to get on. I had to use the tab on the tongue, as well as the tongue on the heel in order to get them on.
After I had the Vessi Waterproof Shoes on, I was impressed by the cloud-like comfort in the soles of the shoe that felt pillowy and comfortable. The entire shoe was warm, soft, and cozy on my foot.
I knew the real test for these shoes was going to be the water resistance factor. I immediately went outside to get the shoes wet. Although I was nervous about the wool, I quickly found that this thick wool layer was entirely leak proof. The water did wet the outside of the shoe, but the inside stayed entirely dry, almost like a non-passable layer lying under the wool.
Although my toes stayed entirely dry, a little bit of water did seep into the space between the heel of the shoe and my foot. Although the shoes themselves did not leak at all, a small amount of water is able to find that open air space between foot and shoe and sink in.
Ultimately, I would recommend sizing down on this shoe and having patience while putting this difficult shoe on, in an effort to eliminate as much space as possible between the heel of your foot and the shoe itself.
Overall, this waterproof shoe is not 100% waterproof, but is still much better than any alternative I have seen. Not only are the shoes actually cute, but they do not leak water and keep your feet much drier than other water shoes.
Vessi Trial
Overall, this waterproof shoe is not 100% waterproof, but is still much better than any alternative I have seen. Not only are the shoes actually cute, but they do not leak water and keep your feet much drier than other water shoes.
The Difference Maker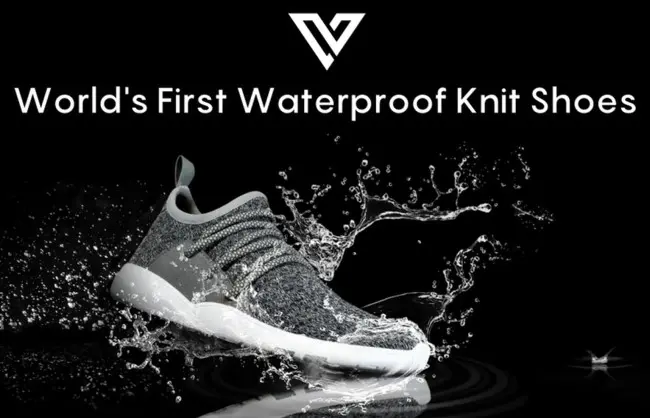 The Nano-Filtering Membrane strategically keeps moisture out and allows for breathability. The end result: a 100% waterproof shoe that keeps odor away. Say goodbye to smelly shoes after spending the day walking through puddles.
In terms of traction, Vessi built a rubber sole tread that maximizes grip while keeping your feet arches in an ergonomically-sound position. Vessi provides optimal cushioning and maximizes energy return whether you're running a 5K or simply walking a few blocks to work.
Vessi Footwear engineered a waterproof shoe that can be thrown in the wash for an instant cleaning rejuvenation. Since the Vessi shoes are built without seams, the water stays out and odors or particles are released through the breathable fabric material.
Optimal Shoe Comfort
Using the company's proprietary one-piece circle knitting manufacturing technique, the Vessi shoes are form-fitting and hug your feet for a personalized fit. They are also equipped with the company's innovative Vzero midsoles. They're designed for comfort and to maximize energy return with every step you take.
Source: Kickstarter
PROS
100% Waterproof
4-Way Stretch
Breathable
Reduces Odor
Lightweight
Flash Knit Technology
CONS
Patent-Pending Prototype
Available April 2018