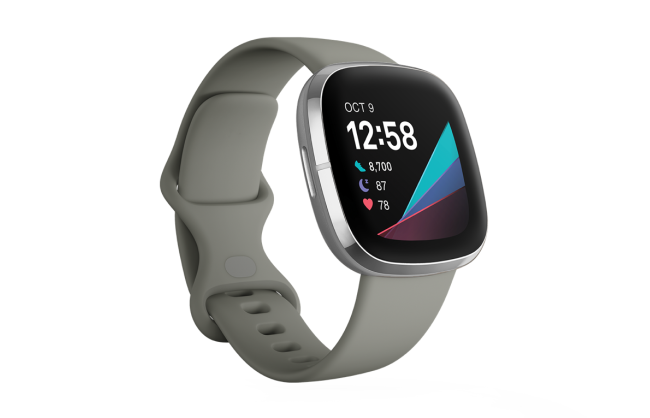 4
Fitbit's newest wearable device comes equipped with state-of-the-art GPS tracking, on-device dynamic workout programs, an intuitive heart rate tracking feature, and water resistance up to 50 meters. Poised to compete with some of the biggest names in the market (Samsung, Garmin, Tag Heuer, LG, and Apple), Fitbit has added an impressive technology feature that no other smartwatch offers; Glucose monitoring, courtesy of DexCom, Inc.
Glucose Monitoring Technology
With more than 400 million people around the world living with diabetes, it's time that a leading global watch brand incorporates glucose monitoring into smartwatch technology. Dexcom's CGM (continuous glucose monitoring system) is a revolutionary sensor that measures glucose levels subcutaneously (just beneath the skin) and wirelessly transmits data to Fitbit's iOS/Android compatible smart app. It then sends the levels, in real-time, to the wearer's wrist – giving those with diabetes instant readings of their glucose levels at all times.
"The strength of our brand and our ability to track critical health metrics continuously for up to 4-plus days, coupled with Dexcom's market leadership in CGM, present a powerful combination that we hope will help millions of people better manage their diabetes," says James Park, CEO of. "With Ionic, we are focused on driving positive health outcomes and more health focused tools, and this collaboration is a wonderful example of how we plan to bring that vision to our users."
Intelligent Design Features
With the ability to integrate the technology with small biosensors that "monitor bodily fluids and send alerts via a smartphone app" and connect to contact lenses that "change colors as glucose hit dangerous levels," the sky is the limit for both Fitbit and Dexcom's potential applications in the future.
"The collaboration between Dexcom and Fitbit is an important step in providing useful information to people with diabetes that is both convenient and discreet," said Kevin Sayer, President and CEO of DexCom, Inc. "We believe that providing Dexcom CGM data on Fitbit Ionic, and making that experience available to users of both Android and iOS devices, will have a positive impact on the way people manage their diabetes."
Affordability
Users of the Ionic smartwatch can also reap the benefits of smart features that include contactless payments, onboard music, smart notifications, and automatic activity/sleep tracking. With a 4+ day long battery life and a powerful Sp02 sensor, the Fitbit Ionic is already poised to compete with some of the best smartwatches on the market, with its affordable price of $300.
About Fitbit, Inc. (NYSE: FIT)
Fitbit helps people lead healthier, more active lives by empowering them with data, inspiration, and guidance to reach their goals. As a leading global wearables brand, Fitbit designs products and experiences that track and provide motivation for everyday health and fitness. Fitbit's diverse line of innovative and popular products includes Fitbit Surge®, Fitbit Blaze®, Fitbit Charge 2®, Alta HR™, Alta®, Fitbit Flex 2®, Fitbit One® and Fitbit Zip® activity trackers, as well as the Fitbit Ionic™ smartwatch, Fitbit Flyer™ wireless headphones and Fitbit Aria® and Fitbit Aria 2™ Wi-Fi Smart Scales.
About DexCom, Inc. (NASDAQ: DXCM)
DexCom, Inc. is dedicated to assisting people in managing their diabetes by developing and marketing continuous glucose monitoring (CGM) products and tools for adult and pediatric patients. For more information, visit Dexcom.
Sources: New Atlas, Fitbit Press Release
PROS
Industry-Leading GPS Tracking
Water Resistant up to 50 Meters
On-Device Dynamic Workouts
Improved Heart Rate Tracking
Sp02 Sensor Technology
DexCom CGM (Continuous Glucose Monitoring System)
CONS
Glucose Monitoring Available in 2018