Top 26 Resources for Learning Sign Language
Over 1 million people in the United States are deaf, meaning that they are functionally deaf and unable to hear. On top of those people, around another 6 million have hearing impairment significant enough to cause problems for them.
You may know someone who has trouble hearing or someone who is completely deaf, which may be why you're looking into learning American Sign Language. You should know that around 500,000 people in the United States and Canada use ASL, so it is common to see people using it in everyday life.
Not all deaf or hard-of-hearing people learn sign language. In fact, only around 1% of them do. That being said, it can be an amazing tool to help a person communicate with others when they are unable to hear or speak to say what they need to.
Learning ASL can help you help people who are hearing impaired or deaf. If you are deaf or hearing impaired, it could help you make you communicate more clearly with others. ASL is a fantastic tool for anyone wanting further ways to talk with others.
ASL is set up to be easy to learn. It teaches you the basic alphabet, which allows you to sign words that you may not know. You can also learn signs for specific words, making it easier to sign sentences.
We've put together this helpful resource of the top 26 sign language books, apps, and other sources, so you can start learning ASL today.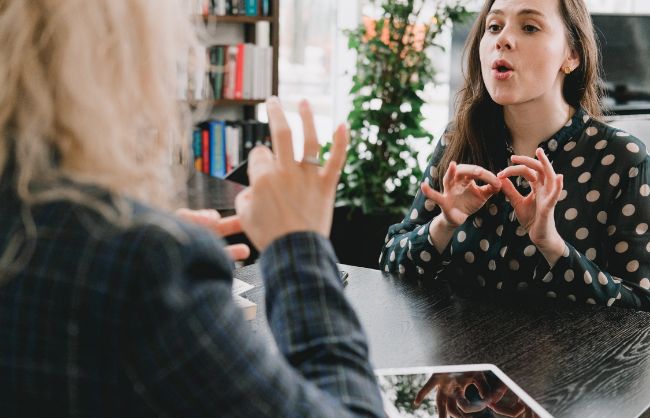 Top 26 Resources to Learn Sign Language
Sign language is easy to learn if you have the right resources. Fortunately, there are many available that are both free and paid. You can start online on YouTube, download an app to your phone, or try a book or DVD program to get started.
This collection of resources will make sure you have what you need to start talking in sign language as soon as today.
Best Apps for Learning Sign Language
Apps are great for learning sign language. You can take them with you, and many are set up for short lessons. Have a break at work? A quick 5- or 10-minute lesson could be waiting for you on your phone or tablet.
Best Video Courses for Learning Sign Language
Video courses may make it easier to learn how signs look in real-time. Here are several courses we think you'll love.
Best Online Courses for Learning Sign Language